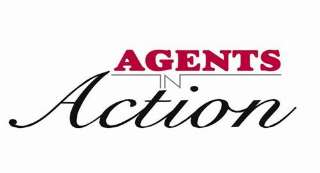 What is Agents in Action?
Agents in Action in a 501(c) 3, non-profit organization that was established in April of 2007. AIA was designed to make a real difference in the lives of many people. We strive to be an organization that can relieve not only our own KW agents, but others in the community during times of need.

How did Agents in Action get started?

Keller Williams International has a wonderful organization called KW Cares. This organization was created to help KW agents in times of need. KW Cares received national recognition when Keller Williams alone raised over 6 Million Dollars for Hurricane Katrina. NAR raised less than 1 Million.

The center's 2007 Culture Committee decided that they wanted to start their own legacy within the Lubbock Market Center; to create a local chapter of KW cares International. This way, money raised by Lubbock Agents would stay in the Lubbock Community. With a board of 20 members, a strong vision, and a lot of heart, we began our mission in June of 2007. With half a year gone, our goal of $30,000 for 2007 seemed to be far fetched, but we raised a little over $23,000 in a 7 month period, distributing over $19,000. $10,313.84 stayed right here in the Lubbock KW office. We have helped agents with family sickness, deaths, hardships and financial struggles.

To date, we have raised a little over $28,000, distributing over $26,000 of that total.

Our Mission Statement:
"Agent driven charity taking initiative to proactively respond to community needs."
2009 Board Members:
President - Miranda Willey
Chairman of the Board - Tim Minnix
Vice President - Debbie Frapp
Secretary - Carol Ann Thigpen
Co Treasurers - Nancy Rawls and Brooke Lair
Members:
Rhonda Brown

Keith Stephens
Jane Stephens

Russ Moore
Jon Willey
Rhetta Riley

Cindy Williams

Connie Minnix
Pam Titzell

Daniel Stanton

Linda Scott
Joe Bellar
Kyle Fannin

Kyle Rawls
Camee Ponder
Cindy Hale
Jan Stallings
Mandy Helton
Danny Leon
For more information, please contact Miranda Willey at 806-790-5606 or email: mkwilley@kw.com